Do you like nothing more than setting up and building the best working apps? Do you want to work with like-minded colleagues, share knowledge and like to talk about the world of tech, games and series? Then join our club!
Nós somos Maxdoro. An innovative and dynamic IT company that specializes in consulting and delivering enterprise mobility solutions. We are committed by transforming the latest technological trends for our customers into user-friendly and innovative apps. You may know us from our own mobile solutions Incontrol, Inspect4All, InSZicht and eLab Gids.
There are currently +/- 40 professionals working at Maxdoro, both within the internal organization on our products or in consultancy at our clients. And we are expanding our team in Portugal!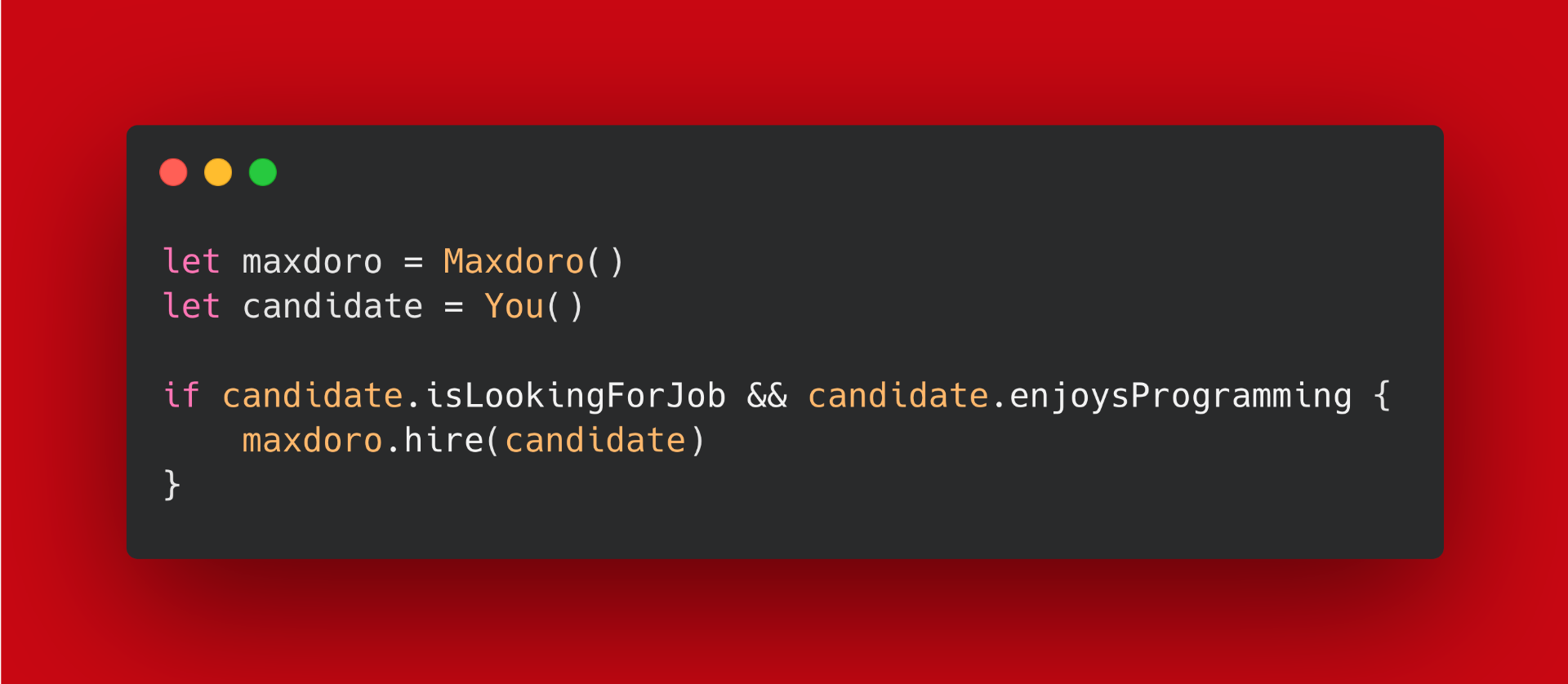 What you will be doing
At Maxdoro you will work as an iOS developer and consultant on a project basis at top companies, where you will continuously develop and challenge yourself to deliver the best digital products and services for our clients. On average, you will help 1 or 2 of our clients per year with their projects.
If you join us, you will be part of the consulting team. This team consists of a diversity of developers.
On a daily basis you will be working in close collaboration with other consultants, developers, designers, testers in an international environment to deliver high-quality software.
This position is a hands-on role and you will join an energetic growing team based in Portugal. You will be working remotely for our customers.
As an iOS developer, you will devise and create applications using MacOS software. You make sure the applications work properly. You also keep an eye on whether existing apps continue to work well or need to be adjusted. When an application is ready, you teach everyone how it functions and answer questions from users. Typically, you'll work in a team of app developers, programmers and product managers.
The stack and tools you will be working with:
Objective-C or Swift
Xcode
Cocoa Touch/UIKit or SwiftUI
Firebase
Jetpack Compose, RxSwift or Combine
MVVM or MVC
CI/CD
UI & Unit testing
Git
Agile-Scrum
What do we offer you:
You can make the difference at our clients, by working as a consultant on a contract from Maxdoro. With us, you can count on challenging assignments at renowned organizations, such as NS, Rijksmuseum, Ahold, ABN AMRO, Ministry of Defence, etcetera.
Depending on your ambition, knowledge, skills and the needs of our clients, we will make the best match.
And you will receive more
A stable monthly salary, depending on your knowledge and skills;
Extra bonus when you work for the client;
8% vacation allowance of the gross annual salary;
26 vacation days based on full-time employment;
Ample opportunities for professional development, such as obtaining certificates;
Laptop that suits your work;
Access to knowledge sessions and many informal gatherings per year.
What we expect from you:
You know your way around the iOS domain and have at least 3 years of work experience developing iOS applications;
You have at least experience with Swift, Xcode and UIKit or SwiftUI and Git;
You have good communication skills and you show decisiveness and dare to make decisions.
Strong English communication skills, both verbal and written.
You have an eye for performance, stability and security and want to deliver the highest quality;
You are focused on helping our clients make real sustainable progress;
You are always looking for new techniques and opportunities to use;
Available for 36-40 hours a week.
Want to apply?
Click on the application button and we might see you soon for an introductory interview. You can also email us via sollicitatie@maxdoro.nl.
Our recruitment process:
Introduction video call with Recruiter;
Technical video interview with Hiring Manager and team member;
An assessment;
Final video business interview with our Director.
Do you have any questions? Feel free to contact our recruiter Patricia Sanchez at +3133 462 7707.
xxxxxxxxxxxxxxxx